Congratulations
Order Your ORA® Swag Today
The 2022 Elite 1% winners can showcase their achievement with an ORA® crystal trophy. Please visit our swag store to order your trophy today.
(The top 100 properties will be awarded a trophy courtesy of J Turner Research).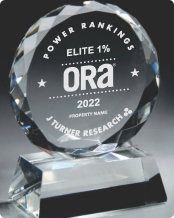 Can't find your community on the list?
Reach out to us to get your ORA® score to see how you stack up with your online reputation.