The high turnover rate due to students graduating and the ever-changing roommate preferences make the student housing market more fluid and challenging. Are student management companies focusing their time and money on aspects of apartment living which really matter? The results of our most recent study What Students Want: Off-Campus Student Housing Preferences involving 19,426 students nationwide, representing six companies, offer some compelling insights. The study was presented at NAA Campus Connex in February 2020.
Multifamily developers and student owners and managers can use the findings to sharpen their focus on increasing resident satisfaction for a higher chance of renewal.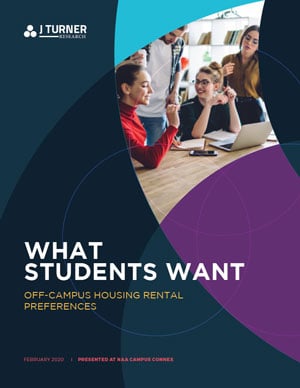 What will you learn?
Apartment design, lifestyle, technology, transportation preferences of students

Aspects that impact housing decision and lease renewal

The disconnect between satisfaction and importance of certain aspects of apartment living