America's Top 10 Cities
with the Most Satisfied Apartment Residents
An online reputation assessment study by J Turner research tracked more than 46,000 properties nationwide to rank the 10 10 cities in online resident satisfaction.
Houston, Texas-April, 2014-Ever wonder which cities in the United States are home to the most satisfied apartment residents? J Turner Research has determined this ranking by tracking and analyzing the online reputation of 46,000 apartment properties nationwide spread across more than 131 cities in a study titled The Digital Mirror: Online Ratings and Reflection. Based on an aggregate scoring scale of 1-100, J Turner found the national average score in online resident satisfaction to be 47. Raleigh, NC, topped the charts as the 'Most Satisfied City' with a final score of 54, Cincinnati, OH came in second with 52, and Washington DC ranked third with 51. For a prospective resident in Raleigh, NC, there is a 68% chance that a property is rated at or higher than the national average. Aurora, OR rests at the bottom of the Most Satisfied City ranking list. For a prospective resident in Aurora, OR, there is only a 17% chance for a property to be rated at a higher than the national average of 47.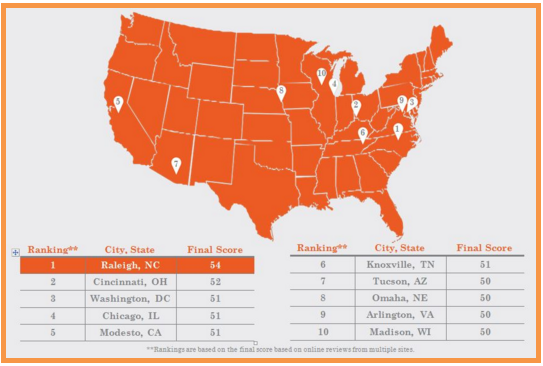 "Online reputation is quickly altering the dynamics of all industries. The apartment industry is no different. The digital world offers an instant and persuasive platform for residents to make their voices heard. Residents across the nation have expressed their opinions on rating properties and; J Turner has then analyzed those ratings to determine the cities offering the highest customer satisfaction in the apartment industry," shared Joseph Batdorf, President, J Turner Research.
About the Study: The Digital Mirror:
Online Ratings and Reflection, Texas Chapter
In this breakthrough study, J Turner tracked and analyzed the online reputations of 46,000 apartment properties nationwide. To overcome the challenge of multiple ratings scales, J Turner devised a statistical model that established a single score representative of the aggregates of relevant websites. This score served as a benchmark for comparison of various properties, management companies, and cities. To be eligibly ranked, a city was required to have at least 50 properties reviewed online. This study included 131 cities nationwide.
About J Turner Research
Founded in 2001, J Turner Research is the leading provider of innovative, affordable, and business enhancing market research service's for the multifamily industry. J Turner uses state-of-the-art technology to empower clients with real time, actionable operational intelligence. With its unique survey methodology, industry bench-marking process, and trending reports, the company strives to consistently meet the changing demands of the multifamily industry. Based in Houston, the company offers a range of cutting edge services including monthly resident satisfaction surveys, real-time prospect feedback surveys and an online reputation assessment tool among others.
For more information, please call (281) 558- 4840 or visit www.jturnerresearch.com.
"The Digital Mirror: Online Ratings and Reflections is the first of it's kind study that provides the industry with information to assess the impact and evolution of online reputation." Joseph Batdorf, President, J Turner Research