J Turner Research's Annual TALi Score Measures & Ranks Resident Satisfaction
J Turner Research, a leading marketing research firm exclusively serving the multifamily industry,recently recognized several communities managed by Boston-based Berkshire Property Advisors for delivering exceptional customer service to its residents throughout the year, as measured by the annual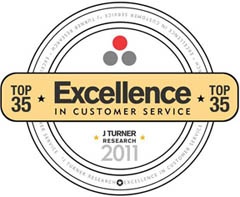 Turner Apartment Loyalty Index (TALi). TALi measures residents' overall satisfaction levels based on a variety of criteria during their stay and ranks the community's score based on this data.
Berkshire achieved the highest TALi representation of multifamily apartment operators across the country, with nine properties ranked in the TALi top 35, according to the national survey.
"J Turner Research's TALi Award is a true measurement of a community's ability to meet and exceed resident's customer service expectations based on a variety of criteria throughout the year," said Joseph Batdorf, principal of the company. "This is the first time our annual TALI award has recognized nine properties within a single portfolio.This unprecedented accomplishment underscores Berkshire Property Advisors' commitment and dedication to creating an overwhelmingly positive resident living experience at its communities."
Data for the rankings was collected by J Turner Research based on a random monthly sampling of resident responses to a variety of customer service related questions. Participating respondents are given the opportunity to share feedback regarding their interaction with community personnel, willingness to provide a referral to the community and satisfaction with maintenance requests.Responses are converted into a unique TALi score and ranked on a scale of 0-10. Communities achieving TALi score equal to or greater than 7.5 are recognized as part of an elite ranking of communities for their ability to deliver exceptional customer service to residents throughout the year.
"Berkshire Property Advisors is proud of placing a total of nine properties in the TALi top 35,"said Berkshire Chief Operating Officer Alan King."Our goal is to consistently provide exceptional customer service to our residents, and J Turner Research provides the unbiased survey outreach and data collection that helps us to ensure that all of our communities are striving for top performance. Our TALi awards speak directly to that commitment to customer satisfaction."
The nine Berkshire Property Advisors communities that ranked in the TALi 35 include The Preserve at Manatee Bay, Bear Creek Apartments, Berkshires of Matthews, Walden Pond & The Gables, Berkshires on Lynn Lake, Townhouse, Sedgefield, Southern Villas, and Berkshires at Sweetwater Creek. In addition to the official TALi award, property managers from the winning communities will be treated to dinner and a Broadway show courtesy of J Turner Research.
If you would like to schedule an interview with an executive from J Turner Research or Berkshire Property Advisors please contact Chris Wood at (303) 682-3945orchris@linnelltaylor.com.To learn more about the J Turner Research's prospect and resident survey programs visit www.jturnerresearch.com.
About J Turner Research
Based in Houston, J Turner Research specializes in developing and executing innovative and affordable research services for multifamily owners/operators of both student and conventional apartment communities. Utilizing an e-mail based survey program, J Turner Research accurately measures the perceptions of prospective and current residents to help owners better understand how to optimize operational and marketing efficiencies within a portfolio of communities.For more information, or the latest research results, please call (281) 558-4840 ext. 300 or visit www.jturnerresearch.com.
About Berkshire Property Advisors
Headquartered in Boston, MA, Berkshire is a vertically-integrated, national organization which focuses on multifamily real estate investment. Founded in 1969, Berkshire has been one of the nation's most active owners and lenders in the multifamily industry, closing more than $11 billion of multifamily equity transactions and $22 billion of mortgage loans. Berkshire manages approximately 33,000 multifamily units in 30 markets and has debt investments collateralized by approximately 78,000 units, with a team of approximately 850 professionals. Berkshire delivers a broad range of investment and management services to its institutional investor clients, including acquisition of equity and debt investments, development and redevelopment services, as well as portfolio, asset and property management services. The Company's assets under management total approximately $4.4 billion.