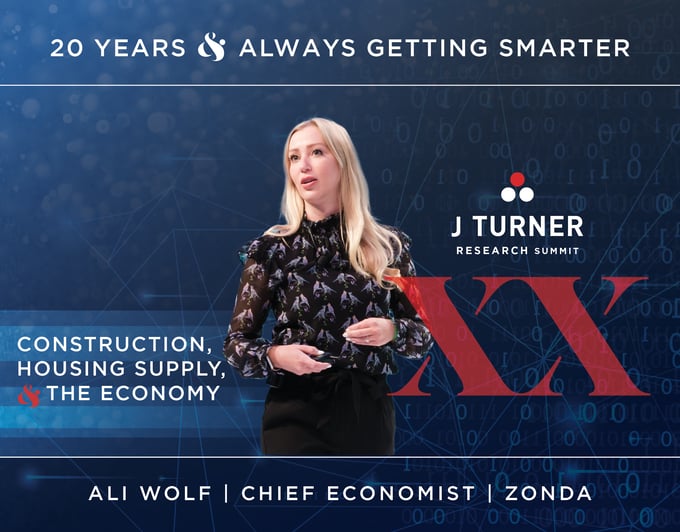 All eyes have been on the Federal Reserve and what their policy means for the economy. How the economy responds to restrictive policy, including consumer spending, construction trends, and inflation, impacts the multifamily industry greatly. Ali Wolf will break it all down in her presentation at this year's J Turner Research Summit, December 10–12, at the Four Seasons Resort in Scottsdale, Arizona.
"The ultimate purpose of economics, of course, is to understand and promote the enhancement of well-being."

-Ben Bernanke
With a focus on the rental market's role in inflation and the record number of units under construction, Ali will identify the key indicators to watch that will have an impact on your business. She will also highlight the importance of understanding regional differences as you make plans that will affect the resident experience and your bottom line.
Key takeaways include:
Why and how to monitor housing supply (both for-sale and for-rent) closely to identify inflection points and the impact on rents and home prices.
The chances of the Federal Reserve cutting rates over the next six months—and what that means for you.
Ali Wolf is the Chief Economist for Zonda, the largest new home construction data company in North America. As the head of the Economics Department, Ali manages and analyzes content, runs special research projects, strategizes with the nation's largest homebuilders, and presents nationwide covering topics across the housing market and wider economy. Highly regarded as an industry expert, Ali is quoted frequently in national publications including CNBC, The Wall Street Journal, Forbes, and Yahoo! Finance, and she also serves as an advisor to the White House, providing data and insights on the U.S. housing market. When she isn't focusing on economics, you might find her listening to Avenged Sevenfold's unique, technically challenging new album, Life is but a Dream, on repeat.
For more information, visit https://www.jturnerresearch.com/research-summit.