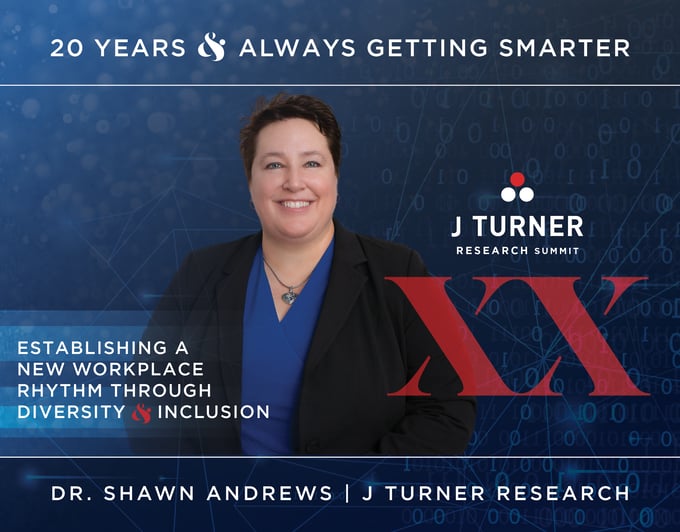 Today, many companies are striving to be more diverse and inclusive but are falling short. Without a road map for enhancing employee engagement and creating a culture of inclusion, leaders often default to doing things the way they have always been done. That is precisely what Dr. Shawn Andrews, acclaimed thought-leader and workplace culture consultant, will discuss in her presentation at this year's J Turner Research Summit, December 10–12, in Scottsdale, Arizona.
"I can tell you, without diversity, creativity remains stagnant."
-Edward Enninful, Editor in Chief, British Vogue
Combining humor and real-world experience with science-backed insights, Dr. Andrews will energize and empower participants who seek to understand the differences between diversity, equity, inclusion, and belonging and how to leverage them in their organizations. She will explain the neuroscience behind creating inclusion and building psychologically safe teams, as well as help the audience understand the power of microaggressions. Leaders will leave the session with specific tools they can use to foster inclusion and equity so their employees feel safe bringing their whole selves to work, can contribute fully, and feel that they belong.
Actionable takeaways will include:
How inclusion and psychological safety impact teams.
How to apply proven strategies to help develop an inclusive workplace and culture.
Dr. Shawn Andrews is a leadership, gender, and diversity expert who educates and advocates for the benefits of inclusion. She is the pioneer of the Rhythm of Diversity & Inclusion, a breakthrough approach to inspire and inform corporations on their leadership effectiveness, culture, and talent management. Her energetic, passionate keynote presentations are highly acclaimed and keep participants talking.
Be sure to reserve your spot at the Summit so you don't miss out!
For more information, visit https://www.jturnerresearch.com/research-summit.