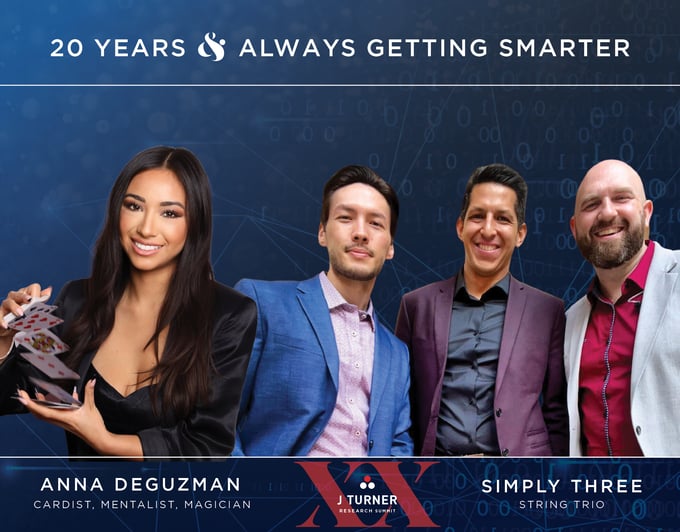 The J Turner Research Summit promises to deliver actionable takeaways for your business. It also guarantees to entertain! In addition to its stellar lineup of keynote speakers and industry experts, the Summit will offer music and magic as you mingle and relax with colleagues and new friends.
"There is no wisdom without leisure." – W. B. Yeats
On Sunday, December 10, magician Anna DeGuzman will wow guests during happy hour with her mesmerizing "cardistry." You may recognize DeGuzman as the runner-up in season 18 of the reality talent competition America's Got Talent (AGT), and she is known for infusing events with fresh and light-hearted fun. Through her unique sleight of hand, spellbinding shuffles, and visual tricks, DeGuzman will engage and captivate Summit participants—and is sure to leave them talking.
On Monday, December 11, enjoy the innovative instrumental music of Simply Three during after-dinner cocktail hour. The trio of Glen McDaniel, Nick Villalobos, and Zack Clark are acclaimed for their genre-hopping strings performances that combine classical training, original works, and inventive arrangements of songs from performers and composers such as Michael Jackson, Adele, Gershwin, Ed Sheeran, and Twenty-One Pilots. With ever-growing popularity and praise from some of the biggest names in the music industry, Simply Three will close day two of the Summit with memorable musical entertainment.
We couldn't be more excited—and proud! —of the unique and memorable acts we have prepared for our Summit guests. Don't miss out on the fun!
For more information, visit https://www.jturnerresearch.com/research-summit.