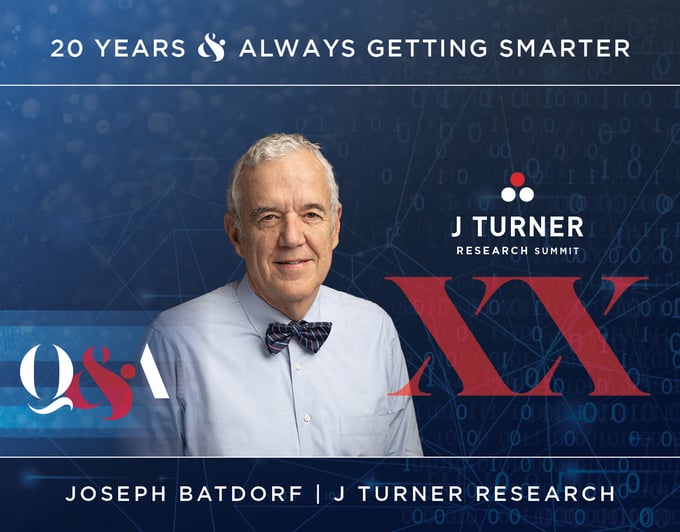 As the multifamily industry continues to evolve after the tumultuous pandemic years and learns to embrace new developments such as artificial intelligence, centralization, and staffing challenges, Joseph Batdorf, co-founder, and president of J Turner Research, believes that the resident experience should always remain our ultimate priority.
Batdorf thinks that in doing so, learning from other business leaders can help inspire us with the latest trends and best practices. These principles are the driving focus of the third J Turner Research Summit, December 10–12, 2023, at the Four Seasons Resort in Scottsdale, Arizona.
The 2023 Summit marks a special milestone for J Turner Research—twenty years of enriching the multifamily industry with smart data and innovative solutions. And while this summit offers the same opportunities to network with and learn from other industry professionals, it also features speakers and perspectives from outside the multifamily industry, all in an idyllic, relaxed setting. Batdorf details what participants can expect as we prepare to meet the changes and challenges around the corner.
What is the J Turner Research Summit all about, and why should Multifamily C-Suite consider attending it?
Batdorf: Our summit is a small and intimate gathering where participants will gain a fresh view of the industry. Too often, conferences focus on speakers from the apartment industry, but our line-up of acclaimed speakers features business leaders from outside of our industry, such as Dr. Ron Friedman, Jay Baer, Dr. Shawn Andrews, and Ali Wolf. We are excited about how their insights will help enrich and invigorate the multifamily industry with new ideas, best practices, and perspectives.
We are a forward-thinking company, and our goal is to help participants combine research and innovation to see what is next on the horizon. Through our innovations—such as the Online Reputation Assessment (ORA) Score and now the resident-facing ORA app, or Einstein – our artificial intelligence-driven sentiment analysis tool—we focus on the latest trends in the industry and provide solutions that multifamily companies can use to be better with their residents each day. Our summit attendees will walk away from the summit with different perspectives than they've ever had before.
How is the J Turner Summit different from other conferences?
Batdorf: Our summit does not include a tradeshow, has zero vendors, and has no sales pitches. It is a comfortable setting for you to learn more and ask questions from other business leaders. Participants will walk away knowing they have not been sold something but rather have had an educational experience.
Not only that, but unlike other conferences, hotel accommodation is included in the price of registration!
As an attendee, what can I expect from the Summit?
Batdorf: You can expect to come away refreshed and ready to go in 2024. Participants will be intellectually challenged while gaining new perspectives from our award-winning speakers.
· Dr. Ron Friedman (keynote speaker) is an award-winning social psychologist who specializes in human motivation.
· Jay Baer has spent nearly 30 years helping the world's most iconic brands gain and keep more customers.
· Dr. Shawn Andrews has helped thousands of leaders grow in specialized areas of diversity, equity and inclusion, unconscious bias, and emotional intelligence.
· And Ali Wolf, Chief Economist for Zonda, the largest new home construction data company in North America, will discuss the state of U.S. real estate and the wider economy.
· The J Turner Team will share the latest and greatest research and updates on the company's product line-up.
Why Four Seasons again?
Batdorf: Past participants have raved about the renowned Four Seasons Resort Scottsdale for its comfort, and we know it delivers the utmost in luxury and relaxation. The Four Seasons is a first-class hotel which sets the stage for a first-class conference.
As you prepare for the summit, what is on your mind about the industry's future in the coming years?
Batdorf: Our industry is facing many challenges in the coming years. These include financial pressures, efficiency of operations, and a focus on the resident experience. We at J Turner want to better prepare you for whatever the future holds, and our summit will give you actionable insights to reboot the way you think about your business, your associates, and your residents.
What has 20 years of J Turner meant to you, and what can we expect going forward?
Batdorf: The team at J Turner Research is keenly focused on what is around the corner and how it will affect the industry and its people. Through our ongoing research and tools such as ORA, we have a special perspective, because we can see how residents are reacting to the changes that are being made.
At the end of the day, you not only have to make sure your investors are happy, but on the other side of the spectrum, you need to make sure your residents are satisfied with their living experience. When you are exclusively focused on the numbers, it's easy to forget that our industry represents a huge decision and people's largest financial investment—where they're going to live.
For more information, visit https://www.jturnerresearch.com/research-summit.